Ground, November Music Festival Tilburg (NL)
1st November 2015 @ 12:00 am

-

8th November 2015 @ 7:00 pm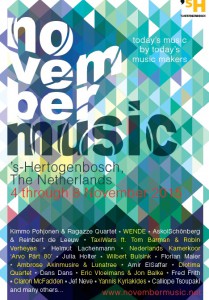 From November 4-8 Ground is part of Installatie expeditie Kruithuis, curated by Horst Rickels as part of the program of November Music Festival. Everyday there are guided tours through this beautiful Middle Age building Kruithuis alongside all sound performances.
November Music is an international music festival founded in 1993 and based in 's-Hertogenbosch The Netherlands. It gives the audience a bird's-eye view of what's happening in with new music. The festival focuses on more than one genre. The emphasis is on contemporary composed music. Especially in recent years we have also featured jazz, improvised and electronic music, musical installations, and music theatre. The festival is attuned to the present moment. The range is very wide. Some of the composers and musicians that performed or visited November Music in recent years are Sofia Gubaidulina, Heiner Goebbels, Louis Andriessen, Mauricio Kagel, Kayhan Kalhor, Michel van der Aa, Nik Bärtsch, Anouar Brahem, Marc Ribot, Arve Henriksen, Vijay Iyer and Christian Marclay.
Installatie expeditie Kruithuis.
Klanken kruipen tegen de muren omhoog en dringen door tot in alle kieren. Met al haar verborgen kamertjes en ruime zalen is het sfeervolle Kruithuis in Den Bosch uitermate geschikt voor klankinstallaties. Speciaal voor November Music grasduint geluidskunstenaar en curator Horst Rickels ook dit jaar door het nieuwste aanbod aan kleurrijke klankobjecten, oortintelende geluidsinstallaties en buitenissige muziekmachines.
Rickels geeft nieuwe makers een kans om hun klankrijke inventies te tonen, waarbij ze ook aangemoedigd worden om samen te werken. Horst Rickels kent de geluidskunsthistorie van binnen en buiten en leidt de bezoekers rond door de tentoonstelling. Het crème de la crème van de actuele Nederlandse en internationale geluidskunst is uitgenodigd voor deze expositie te weten Joris Strijbos, Nicky Assmann, Cathy van Eck, Erfan Abdi, Margriet Kicks-Ass, Dewi de Vree, Jeroen Uyttendaele, Roel Heremans en Angela de Weijer.