Ground, Loos Den Haag (NL)
29th January 2015 @ 8:00 pm

-

11:00 pm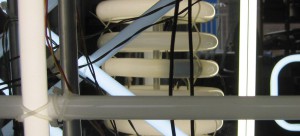 On January 29 we will perform with Ground at Wonderwerp #58 'Starting from Scratch' in Loos Den Haag.
STARTING FROM SCRATCH
The beginning of a New Year offers an ideal opportunity to change plans, it is a welcome occasion to reinvent oneself, try out something new, learn Chinese, refurbish the house, have an affair, throw out all belongings, join a gamelan orchestra, go on a diet, bake a cake, burn old letters, lose the phone and find new friends, write a pamphlet, switch off the light, remember what it is you wanted, forget what it was you were running after, ignore your cravings, turn a page, draw a cartoon, lock your fear in a box and throw it into the sea, fall in love, reconsider your politics, join a choir or invent something new.
The first Wonderwerp edition of 2015 presents Willem Marijs with his Electro Magnetic Field Orchestra of fluorescent tubes, Maia Francisco on piano and sine wave oscillator, Dewi de Vree and Jeroen Uyttendaele with Ground and their graphite controlled electronic instrument and Margriet Kicks-Ass with her brand new Sound-Case.
programme
Dewi de Vree & Jeroen Uyttendaele
Maia Francisco
Margriet Kicks-Ass
Willem Marijs
This edition of Wonderwerp is curated by Anne Wellmer